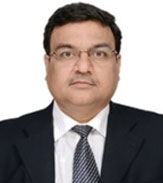 Prof. (Dr.) Sandeep Tiwari
Director
Rajkiya Engineering College (REC), since inception in the year 2010, has reached new echelons in all areas of functionality showing positive growth trend in academic discourse over the years. The motive has always been to attain the global level of excellence in scientific and technical education, fostering research, innovation, leadership qualities and entrepreneurial attitude, contributing to the advancement of the society and mankind.
We at REC consistently provide an academic and social environment that stimulates academic excellence imbibed with cross cultural adaptability, flowering of soft skills and integration of human values & social concerns among students. In order to attain these multi facet objectives we have taken a number of steps aimed at developing the budding Engineers. This includes crafting of teaching learning modules in line with AKTU curriculum, floating of significant number of value-added programs on advanced knowledge domains and facilitating infrastructural support for incubation & innovative entrepreneurship. All these activities are effectively promulgated by highly qualified and well experienced faculties with high degree of precision.
Rajkiya Engineering College is committed to focus on cutting edge technology, innovations & creativity and hands on learning with an objective to convert the students from being job seekers to become job givers. In line with this philosophy, we act as a bridge between the students and various government organizations promoting entrepreneurial culture through their training programs, easy accessibility and funding support from time to time.
I strongly believe that with the kind of impeccable system and support REC provides, we shall continue to create benchmarks in pursuit of achieving academic excellence and shall soon emerge as a dream destination for Engineering aspirants.
Best wishes !!!
Prof. (Dr.) Sandeep Tiwari
Director